‍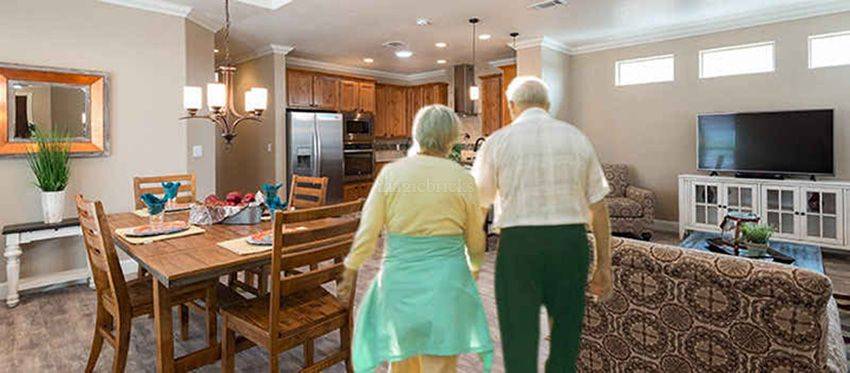 Thinking of retiring soon? You've probably already started to research affordable retirement communities that are a ten-minute drive from the grocery store and have lots of activities you can get involved in. But you've probably also encountered a few that are so expensive you wonder how anyone could afford to live there.
That's because there is a pretty big gap between affordable and expensive retirement communities, and they both fall under the same general umbrella term of "retirement community." There are some affordable options out there, but you do need to do your research before you buy into one of these properties as an investment opportunity.
Here are some points to consider before signing on the dotted line for any retirement community.
1) Who Can Benefit From an Affordable Retirement Community?
Anyone who is retired and has a moderate budget. But there are a few sub-groups of people who might particularly benefit from an affordable retirement community. Retired couples with a moderate budget want to downsize and live in a smaller home with a community feel. Retired couples who want to move somewhere with a warmer climate.
Retired people who want to travel, but don't want to go too far from home. Retired people who may need some level of medical assistance nearby. Retired people who want a more active lifestyle with lots of things to do. Retired people who want to be a part of a larger community where they can help out and be helped out.
2) What Makes a Retirement Community "Affordable"?
For this article, we're talking about a retirement community that costs less than $1,500/month, on average, for a one-bedroom apartment. "Affordable" also means that it's a good investment for you and that the property is well-maintained. An affordable retirement community meets all the criteria above, plus has a good reputation and stable occupancy rates.
An affordable retirement community also has a long-term plan for growth and development. You don't want to buy into a "flash in the pan" community that will be a ghost town in five years. You also don't want to invest in a retirement community that isn't well-maintained and has no growth potential.
3) Research Before You Buy
You should always do thorough research before you buy anything. This is especially important when it comes to investing in a real estate property. Why? Because it's the biggest investment you'll ever make, and it's a long-term investment.
You don't want to be stuck with a property that you can't sell, that's losing money each year, and that the tenants won't want to stay in because it's so neglected. How do you research a retirement community? Talk to the current tenants, visit the property, and read the reviews online.
You can start your research by looking for some of the more affordable options out there. You can then look for signs of neglect, review the management team's history, and make sure the property has a good reputation in the community. You should also look for signs of positive future developments.
4) Try Before You Commit
Retirement communities aren't like hotels, where you can just show up, sign a few papers, and move in. Nor are they like condos, where you can buy a piece of the property and there's no landlord. Retirement communities are a weird hybrid of both, and they're often set up as cooperatives.
This means that you have to go through a board of directors who will decide if you're good enough to join their community. And if they don't think you're good enough? Well, they're not obligated to let you in. If you're looking at a particular retirement community, talk to the current tenants. Ask them what it's like to live there, and if they'd recommend it.
If it's a good fit for you, ask if you can go visit and stay for a few days to get a better feel for the place. You can also try to get on the waiting list to see if there's a current waiting list. The more you can try out a retirement community, the better idea you'll have of whether or not it's a good fit for you.
5) 3 Affordable Retirement Communities That Are Affordable
– Friendship Village – Friendship Village is a massive retirement community in Texas that is set up as a network of smaller communities. There are a few different price points, and they also offer a payment plan so you don't have to pay everything upfront.
– Civista Bradshaw – Bradshaw is a retirement community in Florida that has a large selection of one-bedroom apartments starting around $800/month. They also offer a payment plan so you can pay in installments.
– The Camden Club – Camden Club is a retirement community in Arizona with a one-bedroom apartment starting at $1,050/month. They offer a payment plan as well.
2 More Affordable Options That Aren't Quite as Good
– Club at Del Webb – Del Webb is a retirement community in Florida with one-bedroom apartments starting at $1,200/month. But you have to be willing to put down a deposit of $30,000, and there's a long contract you have to sign.
– Windsor at Wellington – Windsor at Wellington is a retirement community in Colorado with one-bedroom apartments starting at $1,300/month. You have to put down a deposit of $25,000, and you have to sign a long contract.