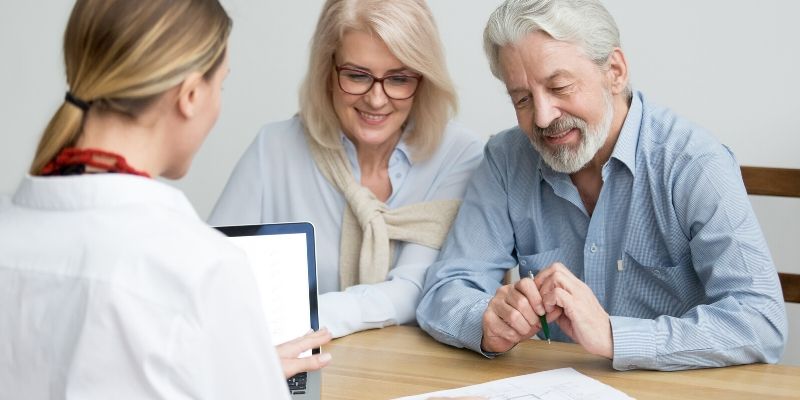 When you think of estate planning, your mind probably doesn't go immediately to your senior years. However, it's a good idea to have this conversation sooner rather than later. After all, retirement isn't something that happens until you're much older.
The sooner you start thinking about your future, the better prepared you'll be when the time comes to implement an estate plan. Estate planning is not just for the ultra-rich; it's for anyone who wants some sort of security in their old age and beyond.
Whether you know it or not, you are already starting to think about your old age and what might happen if something happens to you before then. A will isn't just about passing along assets such as real estate and other property to your loved ones; it also needs to deal with any debts as well as any taxes that need to be paid after death.
An experienced estate lawyer can help you create a will that addresses these concerns while also taking care of any other issues that may arise down the road.
Here are a few Abc's of Estate planning. If you don't know where to start or what questions to ask:
1) What is Estate Planning?
Estate planning is the process of creating a will and other legal documents that ensure that you and your loved ones will be okay after you die. It's important to consider estate planning because it can help you to avoid a lot of future stress and pain.
If you don't have a will, for instance, the state will get whatever assets you own when you die, including your home and other property. If you have a will, on the other hand, everything you own is going to be left to your loved ones in a way that's spelled out in your will.
2) Why Is Estate Planning Important?
Just because you have a few years until you have to worry about retirement doesn't mean that you shouldn't be thinking about your future now. One of the most important things that anyone can do before they retire is to start thinking about their future.
You can create a very detailed plan to make sure that you are taken care of when you are no longer able to take care of yourself. You don't have to do this alone; you can lean on the experienced help of a legal professional like a lawyer.
3) Types of Estate Plans
There are many different ways to structure an estate plan depending on your specific goals and situation. You can choose to create a will, a trust, or a revocable living trust. Each plan has its strengths and weaknesses depending on your specific needs.
Let's take a closer look at what these different types of estate plans are and how they can help you and your family. – A will is a legal document that tells your loved ones what assets they'll receive if something were to happen to you.
A will is written by you, the person who is going to be the executor of the will. You are the legal representative of the will and you are responsible for drafting the will. – A trust is a type of estate plan that protects assets for a designated beneficiary. Unlike a will, a trust is created by a third party, known as a trustee, rather than the person setting it up.
The trustee is responsible for managing the assets in the trust. – A living trust is an estate planning tool that allows you to avoid the expense and complexity of setting up a separate trust. Instead of using a separate trust, you keep your assets in the same ownership structure and simply change how those assets are currently owned.
4) Will
A will is a traditional method of transferring assets after death. It is also the most common way to handle estate planning. It is a written document that is signed by the person who owns the assets and makes specific arrangements for those assets after they die.
The assets that are transferred will include real estate, vehicles, investments, bank accounts, stocks, bonds and other valuables. There are several important things to keep in mind when creating a will.
First, your will must be signed by the person who is signing it, otherwise, it will be ignored. If you are not the owner of the assets, you will need to select another person as the executor, who is also named in the will.
5) Trust
A trust is a legal entity that holds assets and makes financial decisions for beneficiaries. The trustee is someone other than the person who set up the trust. They are responsible for operating the trust and making financial decisions for the beneficiaries.
A revocable living trust is a popular way to create an estate plan for those who want simplicity without the expense and complexity of setting up a separate trust. A revocable living trust is a living document that makes all the owner's assets and their beneficiaries part of the same trust.
The owner then controls and manages the assets by changing the trust document as they wish.
6) Advanced Strategies for Estate Planning
For those who want to take things to the next level, there are a few advanced strategies you can implement. You can also consider implementing many of these strategies later in life, as you may not feel ready to begin right away. –
Advance health care directive: This may be the most important estate planning strategy you implement. As the term implies, this directs what should happen if you become too sick or injured to make decisions. The advance health care directive (also called an advanced directive or living will) tells your doctor what you want to be done if you can no longer speak for yourself. It can be simple or complicated depending on your situation, but it should include what type of care you don't want and what type of comfort measures you would like to have.
Lifetime gift: Another advanced strategy is to look at lifetime gifts for asset transfer. With a lifetime gift, the donor gives assets to a family member or friend without the recipient ever receiving a tax notice for those assets. This can help protect loved ones from future financial hardships.
Trust investment: With a trust investment, you can give an amount of your trust's principal to investment and then withdraw that amount at some point in the future. This can help you avoid a large tax hit when you withdraw the money if you need it later.
Wills, trusts and estates: Another advanced strategy is to have a will, revocable living trust, and any other estate planning documents consolidated in one place. This way, you can keep all your legal paperwork in one place and only have to review one document if you need to make a change. This saves you time and money.